Something about the author of this site
I studied mechanical engineering in Offenburg, which is in the wormest area of Germany. In the moment I am living in Wiernsheim near Stuttgart and work at a swabian sportscar manufacturer in the race engine development.
That's me...
Before college, I was a car mechanic where I was allowed to work with professional classic car retauration experts for the first time. We restored cars as rare 300 SL, 190 SL or 170 s.

Very early, I became enthusiastic about cars, specifically classic cars. With 15, I dismantled my first motor, a gas-lawnmower of a junkjard, that still runs today!

With 16, I bought a Zündapp M50 "Bergsteiger" ("mountain climber") or at least its fragments from a scrap-metal place for DM 30,-. I completely restored this moped at the time and still drive it today.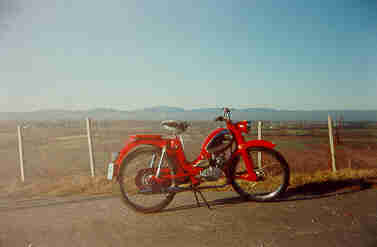 After that I bought a NSU Quickly N, which I started to restore. But when I turned 18 I bought a car, so it parked into a corner!

Through the business partner of my father I came in contact with Ferrari. This man owned 2 Ferrari 308, a GTB and a GTS.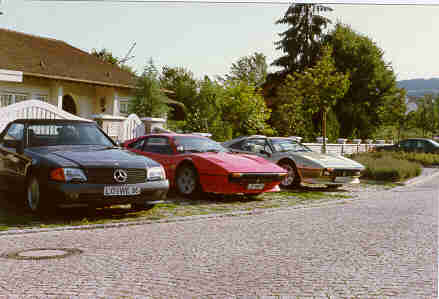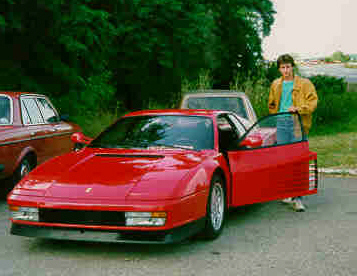 Later he sold these cars and bought a Testarossa and a 250 GT 2+2 (GTE). The Ferrari virus in combination with the classic car virus was so strong that my immune-system could not fight back any longer and the people have been calling me car-crazy ever since.

One day, as I drove through the country on my moped, I saw a car that made my heart jump. What was that? It sat at a Fiat dealership and looked like a Ferrari, about like a 308 GT/4, only somehow smaller. I stopped, saw the name "Bertone" and the abbreviation "X1-9" on the tailgate. "Is there really a car that looks like a Ferrari and which is affordable by someone like me"? was my first  thought.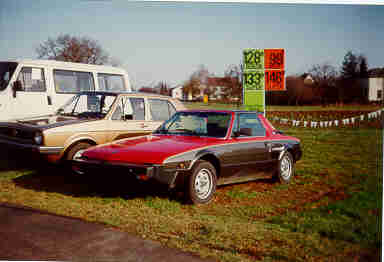 Actually, there it stood in front of me!! from then on I knew: I want to have this car someday!

  When I was 18, had my driver's license and sold my first car, a Fiat 128 (what else?), I did get a X1/9. To read the Story of this car, click to my Lido.

Because I am crazy in cars and a classic car enthusiast, it didn't remain at "only" one car, of course, I had a Ford Capri III besides my X, too, one Mini 1000 and a Trabi (an unbelievable car, I can only recommend driving such a thing once, an unique experience!).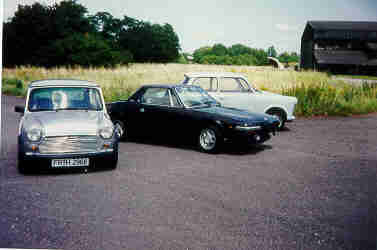 Sometimes im am also driving motorbike, I own two old pre-war Zündapp motorcycles with which I drive sometimes to oldtimer meetings.