The History of Dallara Automobili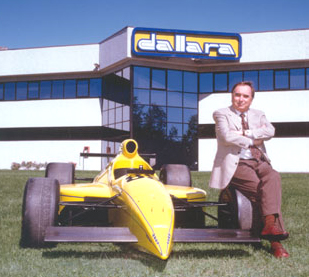 Gian Paolo Dallara in front of his company



Gian Paolo Dallara graduated at the polytechnical institute of Milan with a degree in aeronautical engineering in 1959 and began his work with Ferrari. Then he changed to Maserati and 1963 he came to Lamborghini, where he designed the "Espada" and in 1966 the "Miura". At the end of 1960 he came to De Tomaso, where he worked on the design of Formula-2 and Formula-1 vehicles of the Formula-1-Team of Frank Williams.
In 1972 he created his own company "Dallara Automobili" in Varano Melegari near Parma, Italy. His first modern product was a 1000 ccm sport prototype, followed by further prototypes with 1300 and 1600 engines.
In 1978 Dallara designed his first Formula-3-car, which won the Italian championship in the same year. Dallara-Formula-3-cars have won world-wide championships, also in Italy, France, England, Germany, Switzerland, Japan, South America, Russia and in Austria.
From 1988 to 1992 "Dallara Automobili" designed Formula-1-cars for the Scuderia Italia, which were driven by Caffi, De Cesaris, Letho, Pirro and Martini.
Since 1997 Dallara designs chassis for different teams of the Indy Car championship. Dallara vehicles won the championships in 1988, 1999 and 2000 and the 500 miles of Indianapolis in 1998, 1999 and 2001. Dallara also built up a close relationship with vehicle manufacturers such as Lancia, Alfa Romeo, AUDI, Toyota and Honda, consulting on design, research and production of racing projects.
In April 1988, Honda gave Dallara the responsibility of aerodynamic development and the manufactering of the Honda Formula-1 chassis. In April 2000, Dallara signed an exclusive agreement with the French team ORECA for the supply of racing cars with Chrysler engines, that compete in the 24-Hours of Le Mans.