In 1975 a group 5 racing version of the Fiat X1/9 was introduced at the automobile salon of Paris: the "Icsunonove Dallara". The car was equipped with a glass fiber body, the fenders and some parts of the chassis were removed. With these features weight was brought down to 690 kg. The body was designed by Bertone, the mechanical development was done at Dallara in Varano Melegari near Parma.
1975 at the automobile salon of Paris
Dallara designed a special chassis with long wishbones, in the back the knuckles of the 124 Abarth were used. In the beginning they equipped the car with the 1300ccm engine with a 16-V-cylinder head with Kugelfischer injection, with which they achieved approx. 180 hp. Later they used a capacity of 1600 ccm resulting from the use of a stroked crankshaft, raising output to over 230 hp at 9700 rpm.
In the pictures of the Bertone press release the X1/9 Dallara was still equipped with the roll bar as used in the X1/9 Abarth Prototipo. Later a welded 6-point-roll cage was installed further reinforcing the chassis.

The group 5 became popular in Germany through the german championship "DRM", which classes cars in two divisions (up to and over 2000 ccm). In this group the silhouette of the base vehicle and the engine block had to remain. The rules left a lot of room for modifications, many cars grew large wings ans spoilers. For the homologation, 30 vehicles had to be built, which Dallara did. While the car cost 14.000.000 lire in 1975, one also could buy just the engine or just the cylinder head. Because of this, there are still running vehicles with the Dallara 16 V in Italy.

The "Icsunonove Dallara" was mainly driven at hillclimbs. Well known was the frenchman Jean-Louis Gounon, owner of a garage and experienced Fiat pilot. His car was tested in 1975 by the French motorsport magazine "Echappement".

The Dallara of Jean-Louis Gounon
The Dallara was also active at the circuit, for example with the Italian Guiseppe Piazzi, who used the car until well into the 1980s or with the bavarian Leinberger Racing Team, who entered the car with driver Wolfgang Wolf in the german championship "DRM".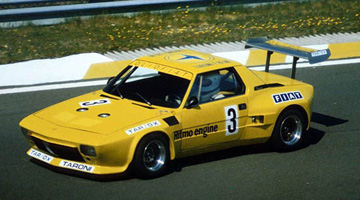 Team Piazzi
Leinberger Racing